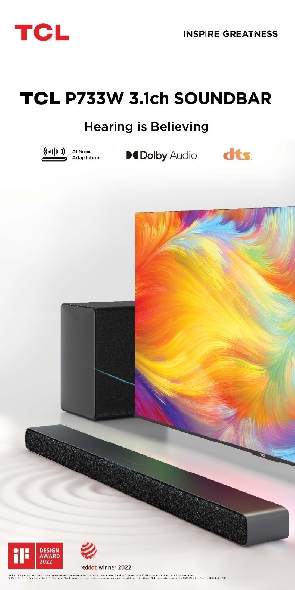 Thu, 7 Sep 2023 Source: TCL Ghana
TCL Electronics, a global pioneer in consumer electronics, is thrilled to introduce its latest breakthroughs in enhancing home experiences – the AC Elite Series & the Soundbar P733W. These cutting-edge innovations embody TCL's unwavering commitment to pushing technological boundaries and delivering unparalleled value to its customers.
AC Elite Series: Elevating Home Cooling to Unprecedented Heights

The AC Elite Series, the newest addition to TCL's roster of home appliances, is poised to revolutionize how we experience indoor comfort. Engineered with state-of-the-art technology and designed for modern living, this series is a testament to TCL's dedication to quality and innovation.

The XA51/WE-Rotary Compressor Elite utilizes TCL's latest rotary compressor and provides rapid and effective cooling while operating at lower noise levels than traditional compressors. The unit's golden fin condenser, with an advanced hydrophilic coating, helps maximize heat exchange for faster cooling and energy savings. TCL's super cooling mode rapidly reduces the room temperature for maximum comfort on hot days.

With a stylish full-function remote and LED display, the XA51/WE-Rotary Compressor Elite puts complete control of the AC at users' fingertips. The unit offers a 4-way airflow swing for full coverage, an auto-restart function, sleep mode, and a 24-hour timer to match users' needs.

A detachable and washable filter removes dust, allergens, and odors for fresher, healthier air. With this new series, TCL provides customers with an advanced AC that keeps them comfortable while lowering their energy costs and environmental impact.
Soundbar P733W: Your Gateway to Immersive Audio Bliss

Immerse yourself in unparalleled audio excellence with the all-new TCL Soundbar P733W. Designed to redefine your home entertainment experience, this exceptional soundbar combines cutting-edge technology, stunning design, and breathtaking audio quality to transport you into the heart of your favorite movies, music, and games. Say goodbye to ordinary sound and say hello to a new dimension of sonic immersion.

Without earth-shattering explosions or deep screaming motors during a car pursuit, a superb movie experience is nothing. For you to be truly immersive, bass and power do matter.

Dolby Audio, the most widely used surround sound technology, offers a consistent and incredible surround sound experience in your home. Along with that, the P733W has 3.1CH and 350W maximum audio power. This can provide ground-shaking bass and easily be put in a corner of your room without any wiring to the soundbar. This is what gives the audio experience its immersive quality.

TCL's dedication to providing unrivaled audio immersion has prompted us to develop several specific sound settings for the TCL Soundbar P733W. We understand the diverse range of content that our discerning customers enjoy – from casual TV viewing to cinematic experiences and music appreciation. Whether you're unwinding with TV, engrossed in a movie, or immersed in music, our soundbar's modes offer an exceptional auditory experience.
Source: TCL Ghana