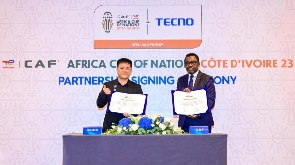 Global technology brand TECNO has solidified its partnership with the Confederation of African Football (CAF) as the official and exclusive smartphone sponsor for the upcoming TotalEnergies Africa Cup of Nations Cote d'Ivoire 2023.
Over the years, TECNO has successfully collaborated with Ghana Football Association (GFA), fostering a new era of innovation and excitement in Ghanaian football. With TECNO's reputation for innovation and CAF's dedication to fostering African football excellence, this partnership promises to be a game-changer for fans and players alike.

This is also a testament to the commitment of both organizations to advance African football and technology hand in hand.

The collaboration, officially sealed during a momentous ceremony in Singapore on the 21st of September 2023, marks the commencement of an exciting new chapter for both TECNO and CAF. The signing ceremony was attended by distinguished guests including TECNO's General Manager, Jack Guo, and CAF's General Secretary, Véron Mosengo-Omba,

Mr Jack Guo, TECNO General Manager shared his excitement, stating, "This collaboration represents a momentous step for TECNO as we join hands with one of the most prestigious sporting events on the continent. TECNO has always been deeply committed to Africa. We look forward to a dynamic partnership that not only showcases our brand's commitment but also underscores the value and appeal of African football to a wide range of global partners.

Together with the African Football Family, we are confident that we will achieve great success and create lasting memories for football and TECNO fans around the world."

Dr. Patrice Motsepe, President of CAF, expressed his excitement to welcome TECNO to the Confederation of African Football (CAF) Family as a TotalEnergies Africa Cup of Nations (AFCON) Cote D'Ivoire 2023 partner.
AFCON has long been a showcase of Africa's football prowess and passion attracting hundreds of millions of audiences globally, making this partnership a significant one, while diversifying the base of our commercial partners and showcasing the viability of African football as an appealing and valuable product to global partners. TECNO has a strong business focus and footprint on the African continent and we look forward to a powerful and impact partnership with them.

Guided by its brand essence of "Stop At Nothing", TECNO is committed to unlocking the best and newest technologies for forward-looking individuals, inspiring them to never stop pursuing their best selves and their best futures. The brand essence perfectly aligns with TECNO's commitment to the AFCON signifying TECNO's dedication to promoting youth empowerment and fostering talent on the African continent.

With football being a universal language that unites people across borders, TECNO's involvement in AFCON 2023 reinforces its commitment to the development and celebration of African culture and sportsmanship.

TotalEnergies Africa Cup of Nations Cote d'Ivoire 2023, the most eagerly anticipated sporting spectacle in Africa, will commence on January 13, 2024, in Abidjan. TECNO fans can look forward to a digitally enriched and immersive experience like never before.

This partnership is poised to take African football to the next level, uniting technology and sportsmanship in a way that celebrates the passion and talent of the continent, including, the excitement of Ghana's participation in the tournament.