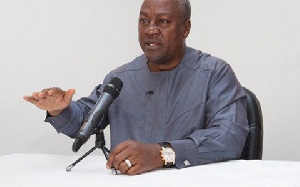 Former President John Dramani Mahama has said there is the need to properly categorise the sort of broadcasting service the nation wants state broadcaster, Ghana Broadcasting Corporation (GBC), to offer, in order to determine how to fund its operations.
His suggestion follows ongoing debate on whether or not Ghanaians should pay TV licence fee to help fund GBC.

The state broadcaster is currently allowed by law to collect TV licence fee for its operations but a section of the public has kicked against the move and has called for the law to be scrapped.

Speaking in an interview on GTV on Tuesday night, Mr Mahama said in many countries, TV licence is paid in order to be able to provide resources for the public broadcaster.
"I guess there's best practice that we can look at. TV licence is paid in many countries, even in advance countries, in order to provide resources for what they call the public broadcaster to be able to put on the programmes that continue to identify the culture of the people and do the kind of programming that the more razzmatazz TV stations are not interested in doing, and, so, there are best practices that we can look at and adopt going forward," he stated.

He continued: "But what we need to do is categorise GBC properly into what we want it to be. It's a bit of a hybrid. It seems to be competing a bit with private TV stations and at the same time doing public broadcasting. What should GBC be? If we decide what GBC should be, then we can look at best practices across the world and decide how we should fund GBC.

"Currently, government is partially funding GBC because government pays the salaries of all the workers and it is only the operational goods and services [that GBC finances], so, it's a mix-funding source. We need to be clear about what GBC is and based on that, we can tell how we want to fund it going forward."