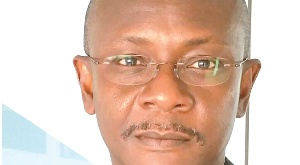 The National Media Commission (NMC) is expected to meet the Director General of the Ghana Broadcasting Corporation (GBC), Dr Akuffo Annor-Ntow over the controversial television licensing fees.
This was revealed by Deputy Information Minister Kojo Oppong Nkrumah in an interview with Obeng Mensah, sit-in host of the Ghana Yensom show on Accra FM on Wednesday, 3 January, 2018.

Mr Oppong Nkrumah explained that, the government cannot step in as far as the creation of the special court to prosecute persons who fail to pay their TV license fees is a concern.

According to him, any action by the government in this endeavour will amount to interference in the work of the state broadcaster.
"I will urge the media to question the Director General of the GBC on this issue, if the government comes in that will amount to interference," he said.

He added: "I am aware that the National Media Commission has invited the Director General of the GBC for a meeting over the matter and let's wait for the outcome of that meeting."