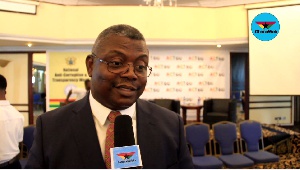 The Commission on Human Rights and Administrative Justice, (CHRAJ) has called on Public Officials and the general public to invoke the Commission's mandate in cases of abuse of power and human rights.
Mr Richard Quayson, CHRAJ Deputy Commissioner encouraged public officials to take full advantage of the Human Protection Mechanisms under the Commission's mandate instead of resorting to complaining through radio and television shows.

The CHRAJ Deputy Commissioner stated during a day's forum to enlighten staffs of the Ghana News Agency on the mandate of CHRAJ, National Anti-Corruption Action Plan 2015 -2014 (NACAP) and the Code of Ethics for Public Officers.

The forum was organised by the Ghana News Agency (GNA) in the first of series of bi-monthly public educational platform being created by the Agency to update the skills of staff on reportage of national issues and also serve as a medium to regularly engage strategic stakeholders.

The forum also comes as GNA moves to deepen its engagement with stakeholders, state institutions and civil society organisations as well as create the platform for effective discussion of national issues.

Mr Quayson stated "the Commission envision for a society that is free, just and equitable where human rights and dignity are respected, power is accountable and governance is transparent", adding "the Commission can't do anything if the public don't come to them with their complaints for redress".
He emphasized that "maladministration or abuse of power including; victimisation, bias, neglect and arbitrariness should be directed to the Commission for the necessary redress".

Emphasising the importance of human rights in the public offices, Mr Quayson stated that, "Public service institutions are like blood vessels" that distribute blood to other parts of the body and that a body needed them to function well.

Mr. Kwaku Osei Bonsu, GNA Acting General Manager encouraged journalists to support fight against abuse of human rights and guide against using the news network to abuse the citizenry.

Mr Osei Bonsu, also encouraged GNA reporters to continue to exhibit professionalism through accurate, unbiased and fair reportage.