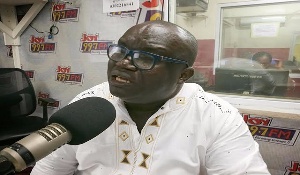 The Media Coalition Against Galamsey has asked the President, Nana Addo Dankwa Akufo-Addo, to follow the lead of Asantehene, Otumfuo Osei Tutu II by removing government officials proven to be engaged in illegal mining activities.
The call by the group as reported by citinewsroom.com, comes in the wake of Otumfuo's recent actions in destooling Chief of Abuontem, Nana Kwaku Duah III, who was allegedly implicated in the unlawful sale of lands belonging to rightful individuals and families for the use of illegal mining otherwise known as galamsey.

The destoolment of Nana Kwaku Duah III and his subsequent handover to the police took place during a session of the Kumasi Traditional Council at the Manhyia Palace on Monday, 21, August 2023.

In response to this, the convener coalition, Ing Dr Kenneth Ashigbey, commended Otumfuo's decisive leadership and urged President Akufo-Addo to adopt a similar approach in his governance.

He emphasised that leadership should entail taking responsible action.

"This is what we expect of leadership, and I completely agree with Otumfuo that if you are a chief, and you have galamsey happening in your community, you are either complicit and are deeply involved in it or you are incompetent and, in both cases, you are not worthy of being the chief or leader of the people. And I think this is the Asantehene walking the talk and so it is the same action that we require of the president," he said.

This statement from Ashigbey comes shortly after the removal of the chief of Aduamoa due to unauthorised land sales and various misconducts.
The Traditional ruler of the Asante Kingdom, Otumfuo Osei Tutu II has been taken the lead to fight the menace of illegal mining in his kingdom.

So far, the Asantehene has destooled at least five chiefs in his kingdom for various misconducts including the sale of land for galamsey.

Ghana's leading digital news platform, GhanaWeb, in conjunction with the Korle-Bu Teaching Hospital, is embarking on an aggressive campaign which is geared towards ensuring that parliament passes comprehensive legislation to guide organ harvesting, organ donation, and organ transplantation in the country.

NW/OGB

You can also watch the latest episode of Everyday People on GhanaWeb TV below:




You can also watch the latest episode of Everyday People on GhanaWeb TV below: