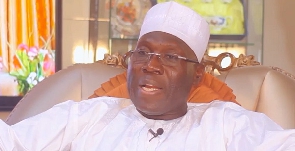 Former Minister for Lands and Natural Resources, Alhaji Inusah Fuseini, has described as unfortunate, the decision of the Chief Justice, Justice Kwasi Anin-Yeboah, to suspend Court of Appeal sittings in four regional capitals.
In an interview with Metro News, monitored by Ghanaweb, Hon. Fuseini said, the directive by the judiciary service will make the dispensation of justice expensive for citizens in the northern part of the country.

"I thought that by having extended sittings to some areas of the country, the Chief Justice and the judiciary service was making justice accessible to the people of the north. But rolling back that program, simply means we are going back to the pre-colonial days when people from the northern region had to travel to Accra for hearing of court cases," he stressed.

According to him, suspending this laudable program, also, does not align with the developmental aspirations of the country, especially, in the Northern regions of the country where administration of law has not taken deep roots in the cultures of the people.

"Look at the case law. Do you find case law from areas of northern Ghana in the law reports? It is precisely why you want to ensure that development gets there; right to the protection of property, dignity of persons, the appreciation of their culture and language, the norms and values, we need to ensure the judicial processes take root over there. Whatever informed the decision of the chief justice to roll back this laudable initiative, is unfortunate," he said.

Background

In a document sighted by GhanaWeb, dated Wednesday, February 8, 2023, the Chief Justice, Justice Kwasi Anin-Yeboah, with immediate effect suspended Court of Appeal sittings in Ho, Tamale, Cape Coast and Koforidua, regional capitals of Volta, Northern, Central and Eastern regions respectively.
The document also made clear that all appeals from the Northern Sector of the country including the Upper East, Upper West, North East, Northern, Savannah, Bono East, Ahafo, Western North and Ashanti regions would be heard in Kumasi.

Furthermore, all appeals in the Southern sector including the Western, Central, Eastern, Oti, Volta, and Greater Accra Region will be heard in Accra.

You can also watch this episode of People & Places here:



PI/WA