General News Tue, 31 Oct 2017
Click for Market Deals →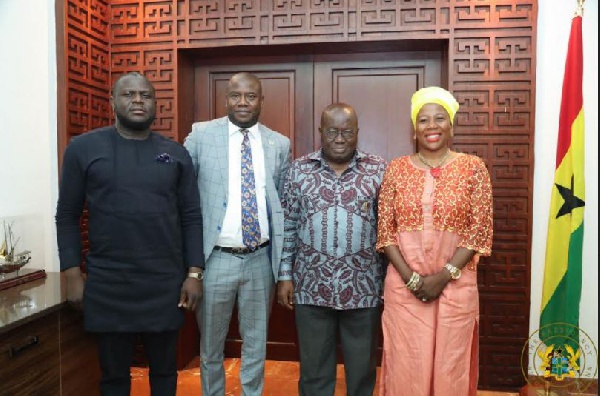 The President of the Republic, Nana Addo Dankwa Akufo-Addo, has indicated that the Tamale Sports Stadium will be renamed the "Alhaji Aliu Mahama Sports Stadium", in honour of the late Vice President of the Republic, Alhaji Aliu Mahama, and in fulfilment of a campaign pledge made in the run up to the December 2016 elections.
According to President Akufo-Addo, the late Alhaji Aliu Mahama "had so much to do with it (Tamale Sports Stadium), and I think it will be a proper monument to him, testimony to his contribution."

President Akufo-Addo made this known on Monday, 30th October, 2017, when the Aliu Mahama Foundation paid a courtesy call on him at the Presidency to inform the President of the series of activities being held to commemorate the 5th Anniversary of the passing of the late Vice President.

Describing the late Alhaji Aliu Mahama as a "colleague and a very valuable member of the team that worked with former President J.A. Kufuor", President Akufo-Addo noted that "his premature departure continues always to be a very emotional matter for us."

Thus, on the occasion of 5th Anniversary of his death, President Akufo-Addo noted that he was happy with the programme of activities drawn up to celebrate the life of the late Vice President.

Chairperson of the 5th Anniversary Planning Committee, Mr. Gabby Asare Otchere-Darko, who led the delegation, told the President that on 16th November, 2017, the exact day five years ago when the late Vice President passed, the Chief Imam, Sheikh Dr. Osman Nuhu Sharubutu, will give special prayers at the house of the late Vice President.
This will be followed by a fundraiser at the Accra International Conference Centre, and the launch of an arts exhibition, to aid in the building of a Presidential library in memory of the late Vice President. The exhibition will run from 16th November through to 6th December, 2017.

On Saturday, 25th November, a clean-up exercise will be held in Tamale, followed by a talk on the need for greater discipline. On 6th December, 2017, the Minister for Finance, Ken Ofori-Atta, will deliver a lecture on the topic "Transforming Ghana beyond Aid: How to get there".

The Minister for Youth and Sports, who was also present at the event, in his remarks, stated that the late Vice President "contributed immensely to sports development and sports promotion in the country. He was an icon for sports and youth development in Ghana. His campaign for greater discipline inspired most of us."

On behalf of the family, Farouk Mahama, son of the late Vice President thanked President Akufo-Addo for his gesture, stressing that "we never lost a father, because we have a father in you. We know we can rely on you any time."
Source: Flagstaff House Communications Bureau
Send your news stories to and via WhatsApp on +233 55 2699 625.