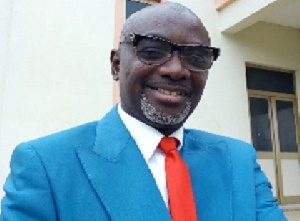 Former Deputy National Coordinator of the Youth Employment Agency (YEA) under the erstwhile National Democratic Congress (NDC) administration, Alhaji Alhassan Tapsoba, has
debunked reports that he threatened to kill an investigative journalist.

The NDC stalwart said he only gave an advice to his friend (name withheld), who is an investigative journalist on phone recently.

According to him, he was astounded when he was arrested by the Bureau of National Investigations (BNI) last week (Tapsoba) for threatening to him.

Explaining further, he said "at about 12:20pm on January 21, 2019, I was in his house in Kumasi when a certain man came there to express interest in buying a car from me and before I could utter a word, about 12 people surrounded me.

"The people that surrounded me included policemen, who were wielding guns," he told Kofi Asante of Nhyira Fm in an interview on Tuesday morning.

According to him, "I was instantly arrested and even prevented from saying good bye to my wife; they just whisked me away in a waiting car."
Alhaji Tapsoba said the security personnel used less than two hours to drive him from Kumasi to Accra, adding that he was eventually informed about the alleged offence after four days.

He said even though he called the investigative reporter on mobile phone, he (Tapsoba) did not threaten to kill him during their friendly conversation.

Alhaji Tapsoba disclosed that he was granted bail by a court in Accra on Friday, adding that he would reappear in two weeks' time.

He expressed gratitude to his friends in both the New Patriotic Party (NPP) and National Democratic Congress (NDC) for their support during his detention.