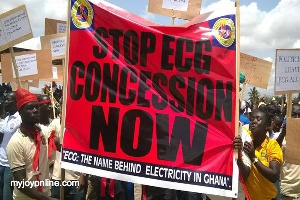 Angry staff of the ECG have called off their plans to plunge the country into darkness on Friday over the concession moves by the government.
The workers had threatened to take the action if the government proceeded with plans to hand out the state power distributor to private investors.

They want the Millennium Challenge Compact 2 modified to include provisions which will demand efficiency from the foreign investor.

But Deputy Power Minister John Jinapor who has waded into the matter has urged the workers to be cautious with their plans.

"The Staff never informed us, all we heard is that they were on a so-called 3-hour strike punishing ordinary Ghanaians just because you think you have issues with the concession that is very unfortunate.
"Let's be very fair to ourselves, can you do that in a private company where staff decide that we won't serve customers. I think we ought to be guided, we ought to be cautious and we ought to respect the labour laws," he said.

Speaking to Nii Arday Clegg on the Morning Starr Thursday, the Senior Staff Union chairman of the ECG in the Volta region, Novihoho Stephen, said the decision to put out lights has been reviewed.

"That action will not be taken again, once the minister has come in to explain issues and the things being done to resolve the matter, that is it. We will not go ahead with that move again...It was a form of threat to the government," he said.