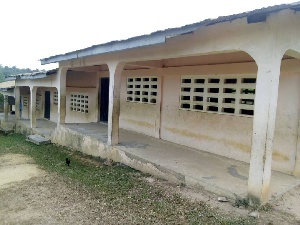 Wed, 7 Feb 2018 Source: Ebenezer Abban-Mensah
Teachers at the D/A Basic School at Ayensikrom Number 1, a community in the Prestea Huni-Valley Municipality Monday morning 5th February 2018 abandoned their classrooms due to shit bombing in the classrooms.
The unfortunate situation that has been a bane for the authorities in the school is said to be an age old behavior from some members of the community. The action taken by the teachers this time around is to drum home their displeasure about the regular occurrence of such shit bombing in the school.

As at about 10:00am, pupils were still loitering around whiles few number were in class without teachers.

Though the Head teacher of the school was not available to speak to us and assistant Head teacher declined to comment on the issue, a teacher by name Emmanuel Buabeng said, the teachers are fed up with the continuous shit bombing of the classrooms so the only way they could do was to vacate the classrooms to drum home their displeasure to the Prestea Huni -Valley Municipal Education Directorate and other stakeholders.

"I have been in this school for the past six years and there has not been any year that such misbehavior has not been exhibited. The Parent Teacher Association (PTA) and the Chief have been involved in announcing in the community to desist from such act but it is still going on." Mr. Buabeng said.

By the time this reporter was filing the story at around 1:00pm, the fecal matter were still scattered in four of the classrooms.
Pupils of the various classes too have refused to clean them even with pressure from their teachers.

Mr. Buabeng in furtherance stated that, they have had it to their neck and cannot take it any longer.

"The P2 madam who is greatly affected has even left the school premises. We have resolved that, if it continues after today, we teachers will not be able to teach in this community again. We will write reports to the authorities to close the school down since the community is making our stay in here and teaching not enjoying" he revealed.

This indecent behavior, "Shit bombing", is not new in the communities and towns in the Prestea Huni-Valley Municipality. Government Schools in communities and towns like Dumasi, Prestea, Insusiding and Bogoso have had their share in the years past.
Source: Ebenezer Abban-Mensah