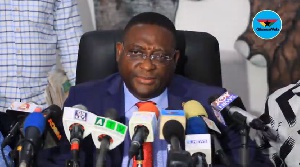 The governing New Patriotic Party (NPP) has expressed worry over the seeming inaction from the Office of Special Prosecutor (OSP) 12 months after its establishment.
According to the NPP, the inaction characterizing the office headed by former Attorney General and Minister of Justice Martin Amidu has heightened the public's impatience thus the need to change gear.

President Akufo-Addo established the office of the special prosecutor as a fulfillment of a campaign promise during the 2016 elections. The office, according to him, will fight corruption on an independent, objective and neutral basis.

There have been massive public outcries lately over the effectiveness of the office in the wake several scandals that rocked the government, the latest being attempts by a Minister of State to bribe Starr FM journalist Edward Adeti to kill a damning story on a Chinese Mining Company.

Speaking to Starr News' Ibrahim Alhassan, Communications Director of the governing NPP, Yaw Buaben Asamoah bemoaned how the inaction at the office of the special prosecutor is affecting public confidence in the government's anti-corruption stance.
"I am aware that the Special Prosecutor wants to establish an institution…a solid institution that will stand the test of time," he said, "but, I think that office should also be aware that there's a certain public impatience about seeing something done."

Mr Asamoah therefore, urged the Special Prosecutor, to publish a status report on the progress made thus far on investigations aimed at reinvigorating public confidence in the government and President Akufo-Addo's resolve to fight corruption in the country.

"I can urge him to demonstrate some readiness, maybe some low hanging fruits, make some pronouncements. I think some sort of status report at this stage may help us."