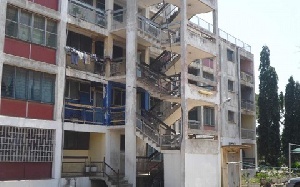 The Tema Development Corporation (TDC) supported by a combined team of police and military men on Thursday, 1 February 2018 pulled down four Kaizer flats at Tema community 4.
This is to pave way for new developments after the buildings were declared defective and inhabitable.

The TDC which secured a court order to evict close to 400 residents on the flats to make way for the demolition issued a January 31 deadline to occupants.
The decision to demolish the building had resulted in a long-standing battle between the TDC and the occupants for years.

Occupants of those flats remain uncertain about their fate and future as they say they have nowhere to go.