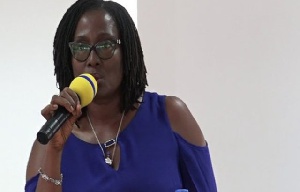 Workers of the Ghana Ports and Harbours Authority (GPHA) especially the Tema Port are mourning their murdered colleague and senior as they wear black attire to work.
Forty-nine years old Mrs Josephine Asante, Public Relations and Marketing Manager of the Tema Port, was murdered at the dawn of Sunday in her bedroom by unknown assailants, after returning from a senior staff party of the GPHA.

The Ghana News Agency gathered that a directive from management of the Port instructed employees to clad themselves in black for one week to mourn Mrs Asante whom they described as "special".

Workers therefore reported to work on Tuesday in black, while red bands hung over the compound and all offices of the Tema Port headquarters.

Meanwhile, the Tema Police Command had invited the elite Homicide Department of the Ghana Police Service to assist in unravelling the circumstances leading to the killing of Mrs Asante.
Deputy Superintendent of Police (DSP) Joseph Benefo Darkwah, Tema Police Regional Public Affairs Officer, told the media that they had apprehended Christian Agyei, the houseboy of the deceased, to assist in investigations as he and the 12-year-old son of Mrs Asante were the only persons at home when the incident occurred.

He indicated that the houseboy in his caution statement, stated that he saw a man in a black t-shirt with jeans trousers to match, running out of the house at the dawn of Sunday when the incident occurred.

The assailants were said to have stabbed her in her room, locked her up and threw the key on the compound.