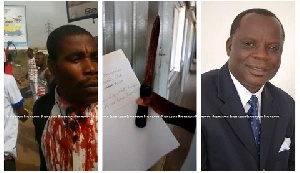 PA Magistrate Court in Tema has ordered a psychiatric assessment of Francis Mugnania Nagbemado, 31, who allegedly murdered Rev. Dr. David Makrom Nagbemado, the Head Pastor of the Assemblies of God Church at Community 4, Tema.
The magistrate on Wednesday ruled that Francis, a private security man, should be examined at the Pantang Psychiatric Hospital to determine whether he is fit to stand trial.

After the psychiatric assessment, the accused person, who resides at Sakumono, might be provisionally charged with murder and arraigned before court.

Meanwhile, the accused has been remanded into police custody to reappear January 17, 2019. His plea was not taken.

According to reports, Francis, who was neatly dressed in black suit, stormed the church premises after drinking local gin.

Reports said without any provocation, he pulled the dagger from the black briefcase and stabbed his uncle twice, who was busily going through his documents ahead of the sermon for the day.
When one of the church elders appeared on the scene, the suspect directed him to immediately inform the security men of the death of the uncle.

Immediately, the church elder raised the alarm which attracted other worshipers to the scene.

The suspect, upon seeing the congregants, took to his heels and scaled the church's main fence wall.

Some residents, who became suspicious because of the dagger and blood, gave him a hot chase and arrested him around Site 7 Roundabout where he attempted to board a taxi to escape.