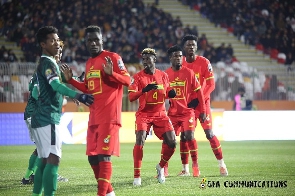 Players of the Black Galaxies team are reportedly displeased after being handed $7,500 instead of $16,000 in promised bonuses before the 2022 Championship of African Nations (CHAN) tournament.
Ghana beat Benin and Nigeria to book their qualification for the tournament.

According to a breakdown by Kumasi-based Nhyira FM, the Black Galaxies were promised $10,000 for the four games (i.e. $5,000 per each home and away victory), which Annor Walker's charges duly delivered.

The team was also promised a qualification bonus of $6000, taking the total to $16,000.

The players, however, received payments after beating Sudan in their second game at the ongoing CHAN tournament.

Out of the $10,000 promised, the players received $3000 with the rest deemed as outstanding.
With regards to the qualification bonus, the report cited deputy Minister of Sports, Elvis Opoku Bobie as informing the players that due to lack of funds, government had opted to pay $4,500 instead of the agreed sum of $6,000.

The deputy minister reportedly informed the players that their outstanding bonuses of US$7,000 have been scrapped.

The situation has caused an unpleasant situation in camp as the team prepares for the knockout stage of the tournament.

Ghana qualified for the tournament, beating Benin 4-0 on aggregate before beating Nigeria 5-4 on penalties after the tie ended 2-2 on aggregate.

EE/SARA