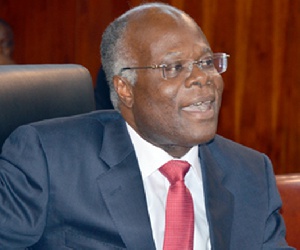 Member of Parliament for Adansi Asokwa, K.T Hammond is still demanding that the AMERI deal be terminated despite the Attorney General, Gloria Akuffo, advising government against such an action.
The New Patriotic Party stalwart says his position against the AMERI deal is based on the fact that the previous Parliament was deceived by the then NDC administration into approving the $510 million deal.

The Mahama administration signed a $510 million contract with AMERI to build power plants, own and operate it for five years before transferring it to the Government of Ghana during the energy crisis in 2015.

This was done on a sole-sourced basis after a meeting between the former President of the Republic of Ghana and the Crown Prince of Dubai.

The NPP then in opposition described the agreement as a "stinking deal" which will be re-looked at when it assumes power. A 17-member committee established by the Energy Minister Boakye Agyarko advised the government to re-negotiate the $510m power deal with UAE-based AMERI energy after a report revealed it was over-priced by $150million.

But the Attorney General Gloria Akuffo has warned the Energy Ministry to dismiss plans of terminating the AMERI deal because it will end up in huge damages against the Government of Ghana.
In responding to two letters from the Energy Minister requesting for legal advice to suspend monthly payment to AMERI, the attorney general kicked against the move because "the deal is valid" and satisfies Ghana's procurement processes.



Ms. Akuffo noted the Government of Ghana "entered into a very unfavourable agreement with AMERI", adding the only way out is for the government to "renegotiate the deal with AMERI with a view to achieving a more favourable term."

She added that "for the GoG to extricate itself from the highly unfavourable BOOT agreement without paying damages and or penalties to AMERI, there is a need to demonstrate that the agreement was procured by illegal means either through fraud or corruption or in breach of the PPA: however, for GoG to make such claims it is imperative to gather sufficient relevant evidence to establish whether or not the BOOT agreement is tainted by fraud or corruption."


Speaking to Starr News' Ibrahim Alhassan on Tuesday, the former deputy Energy Minister stated that even though the deal did not breach any law, it must be terminated because parliament were deceived to have the deal passed.

"I had come by documents which the Attorney General doesn't know off…and by reading the documents…I formed the clear impression that we were misrepresented to, we were deceived and that destroys the legal validity of the agreement that parliament gave to the agreement.

"If I had known the true calculations that had gone into it I together with my group would not have supported it, we will not have recommended it to parliament and critically I would not have seconded the motion…so the argument is that the based on what has now come out, the agreement that was passed by parliament is not valid. The AG didn't deal with that."