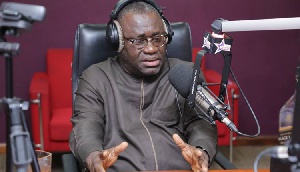 Security Analyst, Dr. Emmanuel Kwesi Aning has described as disrespectful claims by the Deputy Speaker of the Turkish Parliament that Fetullah Terrorist Organization (FETO)-linked schools are established in Ghana.
In a meeting with the head of the Ghana-Turkey Inter-parliamentary Friendship Group Sualihu Alhassan Dandawa, the Republican People's Party (CHP) MP Yasar Tuzun drew attention towards the presence of FETO-linked schools in Ghana.

Tuzun noted that a total of five FETO-linked schools were active in Ghana.

"These schools are employing the terrorist organizations' members and are serving the traitorous aim of FETO under the mask of education," said Tuzun.

"These schools were not only a source of threat for the security of Turkey but also for the countries where they are active."
Reacting to the comment, Dr. Aning who is Director of Faculty of Academic Affairs and Research at the Kofi Annan International Peace Keeping Center said the deputy speaker should apologise to Ghana for the comments.

"I think that statement by that gentleman was disrespectful to Ghana. It demonstrates the need for us as Ghanaians to be conscious of those who come here making statements. Every single problem faced by the Turkish government is perceived in the context of Fetullah. Everyone in this world has told Turkey that Fetulla is not the basis of their problems. We've seen the way the Turkish have clashed with the Dutch government, with the German government when they don't have their way.

"And I think that man owes us an apology. We know how to protect ourselves and we don't need it from the Turkish representatives," Aning said.