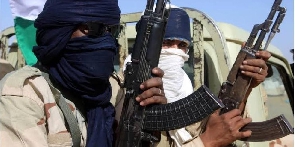 Over 4000 citizens of neighboring Burkina Faso, as well as some Ghanaians living in that country, are said to have fled into Ghana's borders seeking refuge.
According to a graphic.com.gh report, this has come about following attacks on Burkinabes by some suspected terrorists and militants.

Among those seeking refuge are women and children, with a number of them coming from such places in Burkina Faso as Bugri, Zouga, and Asongo.

So far, the majority of the refugees have landed in the Bawku West District in the Upper East Region, hopeful that they can find asylum there.

The report also said that some of the communities in the Bawku West District housing these Burkinabes are Adasiga, Soogo, Agoogo, Kperigu, and Kperigzousi in the Soogo Electoral Area.

Others are also residing in places like Natinga, Googo, Weari, Kanlesi, and Fulbes in the Widnaba Electoral Area.

"More than 1,000 of the refugees are living in the Soogo Electoral Area, 1,773 are currently living in the Widnaba area, while 1,325 are staying in the Akasooga Electoral Area.
"The large number of refugees has put undue pressure on food and social amenities in the areas, a development which continues to be a source of worry for the local people and needs urgent attention from duty bearers," the report stated.

Speaking on the development, the Assembly Member for the Soogo Electoral Area, Atampuri Osben Asaki, said that the situation in the area is serious and needs urgent attention.

He also complained about accommodation challenges, seeing that most of the refugees have been forced to live with local community members.

The report added that the situation is such that those who have could not be accommodated with the locals have resorted to the only available options in uncompleted buildings, while others too use makeshift structures.

"Sadly, some children, including newborn babies and their nursing mothers, sleep in the open, especially during the day, due to the unavailability of homes to accommodate them," the report added.

In the meantime, it is reported that the Catholic Relief Services (CRS), through its grant support to the Navrongo-Bolgatanga Diocesan Development Office (NABOCADO), of the Catholic Church, has presented food and non-food items to the refugees, summing up to GH¢1.3 million.
The Bawku Naba, Zugraan Asigri Abugrago Azoka II, has also made a donation of food items and clothing to the Burkinabe asylum seekers in the area.

The Upper East Regional Security Council (REGSEC) is also reported to have held a number of meetings to assess the security situation in border communities, and also strategise on measures to prevent the terrorists from crossing over into Ghana.

It will be recalled that in June 2022, more than 1,872 refugees, including Ghanaians, fled a troubled spot in Burkina Faso to seek refuge in Ghana due to terrorist attacks by militants against local militia.

AE/BOG