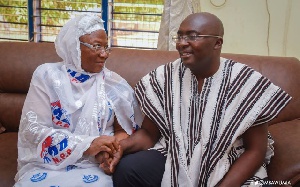 Vice President Dr Mahamudu Bawumia has conveyed his gratitude to Hajia Mariama Bawumia, his mother on the occasion of Mothers' Day celebration across the world.
Dr. Bawumia was born into a large family and is the thirteenth of his father's 19 children and the second of his mother's five.

Mahamudu as affectionately called by the mother she indicated was a popular figure in most areas and was a major brain behind the popularity of the Bawumia name which has become a household name in Ghanaian politics.

Hajia Mariama Bawumia said she is a native of Kpasenkpe in the West Mamprusi District and was one of the first northern female students to gain admission to the prestigious Wesley Girls High School in Cape Coast in the Central Region.

Recounting some good signs in him that won him hearts of the elderly while growing up in Tamale, Mother Mariama said Mahamudu was always yearning for knowledge as a child and pestered adults with too many incisive questions to get the answers he desired.

On his conduct at infancy, Hajia Mariama said he was engulfed in radicalism the habit of growing children but they were able to check this as disciplinarians who never spared the rod to spoil their children.

She was fast to object to the claim that his son was a phobia of crowd and could therefore not speak in public.
According to her, Mahamudu had keen interest in debates even as a child and dazzled his audiences with his superb debating skills which won TAMASCO the best debating team in the Northern and Upper Regions competitions in 1981.

She also added that Dr. Bawumia was known in sports and represented Tamale Secondary School in Table Tennis at inter-school sporting competitions bringing to bare his leadership skills at a tender age.

These and many others she observed had contributed to the success story of Dr. Bawumia who was also an icon to other northern brothers and sisters aspiring to higher heights noting that his inclusion was not only going to add weight to the fortunes of the party in December but had the potential of retaining the party probably for a lifetime.

on the special occasion the Vice President wrote on his facebook wall;