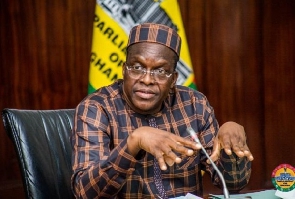 Speaker of Parliament, Alban Bagbin, has noted that Parliament House is for brainiacs and not for brawns.
He entreated lawmakers to desist from substituting physical strength for intellectual prowess in the House.

Alban Bagbin further called on members of parliament to jaw-jaw in decency.

Addressing parliamentarians on February 24, 2023, he said, "Leadership, yourself must show the way and I am sure your members will follow your good example...The House is a House for brain, not for brawn. A brawn belongs to another arena and not on the floor of the august House."

"Please let's continue to jaw-jaw in decency. There are some exceptions, but it should not be the rule that every day the heat is being generated rather from Parliament, but not from actions outside Parliament," he added.

His comment comes on the back of a brawl in parliament in December 2021 over talks on E-Levy.
During a late-night session in December 2021, some MPs were seen pushing and throwing punches at each other.

This was after the opposition MPs rushed forward to prevent the Deputy Speaker of Parliament, Joseph Osei-Owusu, otherwise known as Joe Wise from leaving his seat to vote.

Meanwhile, parliament has remained in deadlock as parliamentarians hold diverse views on the proposed Constitutional Instrument by the Electoral Commission (EC) to undertake continuous registration of eligible voters.

On Thursday, February 24, 2023, the House was forced to adjourn the meeting after the Minority in parliament protested, demanding the Chairperson of EC, Jean Mensa, to appear in person to brief the House on the proposed Public Elections (Registration of Voters) Regulations 2023.

The Electoral Commission was represented by the Deputy Chairman in charge of Corporate Services, Dr. Bossman Asare and Director of Elections, Dr. Serebour Quaicoe at the meeting.
Summons

"When the sitting was finally resumed at 8:07 p.m., Speaker Bagbin took the Chair and summoned the Chairperson of the EC, Executive Secretary of the NIA to appear in the House in response to the concerns raised at the Committee of the Whole," Daily Guide reported.

"They are to brief MPs as soon as possible on the proposed Public Elections (Registration of Voters) Regulations, 2023, as well as the status of the Ghana Card registration," it added.

ESA