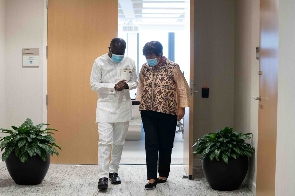 The Executive Director of Good Governance Advocacy Group, Ghana, Listowel Nana Kusi Poku, has urged the International Monetary Fund (IMF) not to give the Government of Ghana the $3 billion bailout it is seeking.
According to him, if the IMF gives Ghana the bailout, President Nana Addo Dankwa Akufo-Addo and his appointees will misuse and steal it.

Kusi Poku, who made these remarks in an XYZ TV interview monitored by GhanaWeb, added that if the IMF gives Ghana the bailout, then they are thieves like the president and his appointees.

"The IMF are fools if they give Ghana a penny. If they give Ghana GHC1, then it means they are thieves. It means they are pouring money into a basket.

"Where is the money they (the IMF) gave Ghana recently… Akufo-Addo is a thief. If they give us the money, he will steal it. So, if the IMF gives us even GHC1, they are also thieves who want to steal the money with Akufo-Addo," he said in Twi.

He added that the IMF should conduct an independent audit into the finances of Ghana, and they will come to the realisation that the government is corrupt.

Meanwhile, Dr. Cassiel Ato Forson, the ranking member on Parliament's Finance Committee, has said that Ghana is in danger of not getting a bailout from the International Monetary Fund (IMF) within the stipulated timeline.
According to him, the $3 billion bailout is at risk because of the government's failure to finalise its Domestic Debt Exchange Programme (DDEP), myjoyonline.com reports.

He added that the DDEP is an essential measure that the government must get done to prove to the IMF that its debt is sustainable.

Watch the interview below:





IB/SEA