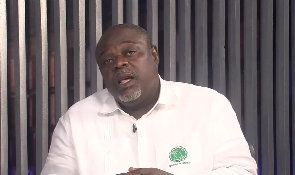 Former deputy general secretary of the opposition National Democratic Congress (NDC), Koku Anyidoho, says the party is currently disjointed.
He asserted that the NDC is now divided into several factions, potentially threatening its intended victory in 2024.

He explained that the divisions, the blocs, and the fights in the NDC are there, and you need a united front going into the general elections.

He spoke with Kwabena Agyapong on Frontline on Rainbow Radio (87.5 FM).

Koku Anydoho noted that nobody is saying that the NPP has turned Ghana into gold, but the NDC is conducting itself; I have not seen such a disjointed party before in opposition".

"If I were at the NDC headquarters, the NPP would not have had it easy. Just look at their congress and what happened. Do you think they'd have it easy if I were at headquarters? There was not a single press release from the headquarters. There appears to be no one working at the NDC headquarters. The NPP has rallied and corrected all of its mistakes. So if you speak about them now, it would be dead news.".
Meanwhile, he has claimed that there is a thurf between Asiedu Nketiah, John Mahama, and others.

He claims that Asiedu Nletiah will benefit the most from the NDC's immediate defeat in 2024.

He explained that if Mahama loses the election, Asiedu Nketiah will reclaim his position as party leader, emphasising that Asiedu Nketiah is creating space for that glory to come and will not cede any space to anyone.

He said the Daily Dispatch has published that Asiedu Nketiah is preparing to lead the NDC as presidential candidate in 2028, with Fifi Kwetey as his running mate.