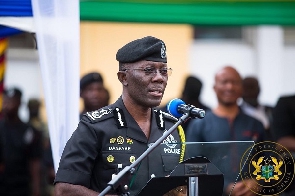 Fri, 14 Apr 2023 Source: GNA
Gallant Cadres, a group associated with the opposition National Democratic Congress (NDC) have taken the Inspector General of Police to the cleaners over the "treasonable comments" made by Minister of Agriculture Bryan Acheampong.
The group's Public Relations Officer, Richard E.A. Sarpong says the IGP Dr. George Akuffo Dampare's failure to arrest the Minister is sickening.

He is also wondering why the Minister would be protected after he had made comments that could destabilize the country.

"They (NPP) are preparing to resort to violence. Remember what happened at Ayawaso West Wuogon, remember what happened during the 2020 elections, where eight people died? The NDC going forward; the court wouldn't be a place for settlement. "We will settle every electoral malpractice on the streets."

He told Nyankonton Mu Nsem on Rainbow Radio 87.5Fm that the NPP has realised they would lose the 2024 presidential election and for that reason, they want to rig the polls.

"Because the NPP realized they would not win the 2024 general elections, they have decided not to hand over power to the NDC. Bryan's claim that the NPP was unprepared for the NDC is treasonous and an attempt to subvert the will of power, undermine Ghana's constitution, and plunge the country into anarchy."
He said "This is not something the IGP had to wait for someone to petition him before he affected an arrest. The IGP is joking with the heart and minds of Ghanaians. The IGP under his watch is making Ghana Police Service a terrorist organisation because someone has decided to undermine the constitution, and you have refused to arrest him".

"The trans-Togoland group was accused of attempting to destabilize the government, and all security forces were mobilised to arrest and prosecute them. But how can a former security minister and MP make such reckless remarks and go unpunished?"

"We have learned a greater lesson from the 202 elections that the NPP used the EC to rig the elections," he said. Let us try to unpack his remarks. First and foremost, he stated that they would not cede power or subvert the will of the people. If they do this, there will be no peace.

He warned, "The resistance of this government to hand over power would cause the destruction of this country, will cause to human life and property, and so we demand proper arrest of Bryan Acheampong".
Source: GNA