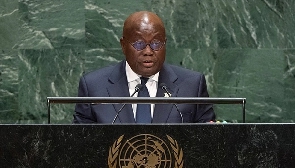 President Nana Akufo-Addo has boldly confronted the apparent hypocrisy of developed nations during his address at the 78th session of the UN General Assembly in New York on September 20, 2023.
He shed light on the stark contrast between the preaching of democracy by these powerful nations and the often contradictory actions they take within the United Nations.

In his speech, President Akufo-Addo emphasised Ghana's recent role as a non-permanent member of the Security Council, highlighting the disappointment and disillusionment experienced during this tenure.

He pointed out that while these major powers advocate for democracy, fairness, and justice on the global stage, their actions within the UN often prioritise self-interests over the greater good of humanity.

"Ghana is currently serving out the second of its two-year term on the Security Council as a non-permanent member. This is the third time in the 66 years since we joined the UN, the first post-colonial African nation to do so, that we have had the privilege of serving on the Council. Mr President, it has been a sad and disappointing experience for us.
"We have witnessed at first hand, over and over again, that the big powers of the United Nations might be preaching democracy, fairness and justice around the world, but are happy to practice the opposite here at the UN, prioritizing parochial interests over those humanities," he said.

The Ghanaian leader pointed out that "We cannot continue to preach equality and good governance around the globe, we cannot insist on peace and justice in the world, when our global organisation is seen by the majority of its members and the people of the world as hampered by an unjust and unfair structure.

"Mr President, the Assembly has quite properly chosen the rebuilding of trust as critical in restoring stability and prosperity to our world. We cannot rebuild that trust when the organisation that should bind us is seen by many as helping to perpetuate an unfair world order, which is reinforced by an inequitable, dysfunctional global financial architecture."