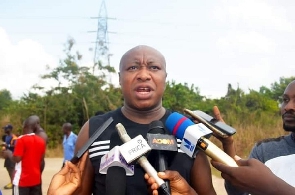 A one-time Central Region Vice Chairman of the New Patriotic Party, Horace Ekow Ewusi, has denied an earlier report that accused Gabby Asare Otchere-Darko of actively aiding illegal small-scale mining companies to undertake galamsey in parts of the country.
He further squashed claims that he had personally received calls from Gabby Asare Otchere-Darko to allow his clients who were into galamsey to continue operations under the guise that they were duly registered.

Reacting to this through his lawyer, Morgan Bauers Y.E.S, Mr Ewusi said he has no knowledge of the illegal mining activities in the said audio recording.

He stressed that the audio was doctored.

"We act as Solicitors for Horace Ekow Ewusie (hereinafter referred to as our client) and write pursuant to his instructions to issue a disclaimer on an alleged audio recording being circulated and attributed to him. It is our client's case that the said audio recording initially surfaced sometime in 2020," part of the release read.

"Following allegations that the voice contained in the audio recording was that of our client, he proceeded to put forward a denial of same on some media platforms at the time. Our client reiterates that the audio is clearly a doctored piece and not his voice. Indeed, he has no knowledge of the illegal mining activities the said audio recording allegedly attributes to the names mentioned including Gabby Asare Otchere-Darko," it added.

It further pointed out that, "In the circumstances, our client vehemently denies the audio recording and categorically states that he knows nothing about the allegations contained therein."
The purported audio clip of Horace Ekow Ewusi's chat with a journalist by name Duncan around the issues of galamsey was published on Kumasi-based Sompa FM's morning show of April 28, 2023.

He recounted how in the past, he had stood firm along with environment minister and secretary to the Inter-Ministerial Committee in Illegal Mining (IMCIM), Charles Bissue, who had fended off pressures from Gabby and others to allow a company Gabby was representing to go on with galamsey.

Read the disclaimer below;




ESA