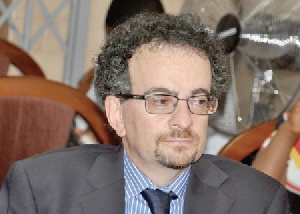 The British high commissioner to Ghana has said Social media is an immediate form of communication when relating to people within and outside a continent and as such people need to be careful with what they say so as not to make mistakes.
Speaking at the DOTTS forum Mr. Benjamin said it is good for diplomats to be on social media because they serve the people and social media is where the people are.

H.E Jon Benjamin in his speech on the Diplomacy in the digital age said, ''The biggest mistake now is not to be on social media'' because there are certain things which have been said and can't be taken back.

"When relating to people on social media it is important to note the right procedure and following protocol is an integral part which must be strictly adhered to," he reiterated.
He added that in raising awareness social media is an important tool as seen in the #bringbackourgirls campaign, a digital campaign can create a common aim and purpose. When it goes viral we can call it a success.