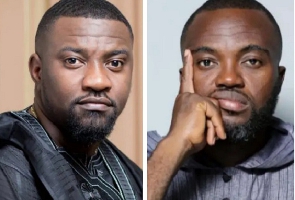 Ghanaian actor, politician, cum NDC candidate for the Ayawaso West Wuguon constituency, John Dumelo, has stated that the contest between him and Fred Nuamah was totally necessary.
He said this while highlighting his political aspirations during a discussion on TV3.

Speaking on the rivalry between him and his friend, John Dumelo mentioned that a new NDC candidate for that particular constituency would have been suicidal.

'I didn't mind the contest, but I felt like a contest wasn't needed. It wasn't necessary because the party looked at Ayawaso West as a different case, because I had contested in 2020.

"We did extremely well, we nearly won, and we lost by a small margin. So it would have been suicidal to change the candidate. So, in a democracy, a lot of negotiations had to go on. As a Democratic party, you had to sit down and do your research, you had to decide that, for this place, let's change this person, and so on," he stated.

John Dumelo was chosen as the NDC's official candidate for the Ayawaso West Wuguon Constituency on Sunday, August 13.
This marks his second consecutive bid for the position.

Prior to this, he encountered resistance from his close friend and fellow NDC party comrade, Fred Nuamah, who initially expressed his own interest in competing for the seat.

However, in a new twist to events, Fred decided to withdraw from the race and throw his support behind John Dumelo.

Ghana's leading digital news platform, GhanaWeb, in conjunction with the Korle-Bu Teaching Hospital, is embarking on an aggressive campaign which is geared towards ensuring that parliament passes comprehensive legislation to guide organ harvesting, organ donation, and organ transplantation in the country.

ID/EB