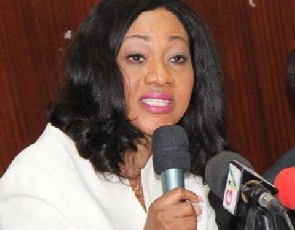 Jean Mensa, Electoral Commissioner, has revealed that the Electoral Commission's (EC) continuous registration exercise will save the country GH¢40 million.
She told Parliament's Committee of the Whole that the EC will conduct the registration process with internal staff.

He stated that the EC would not hire outside consultants for the exercise.

Jean Mensa stated that the EC has decided to incorporate the continuous registration process into the core duties of the electoral body's staff.

She was in the House to answer questions about the EC's decision to use the Ghana card as the sole form of identification for voter registration.

She stated that the exercise would be repeated with all EC district officers across the country.
The EC chief also denied claims that using district offices would result in people losing their right to vote.

She said that the EC will consider establishing additional registration cemeteries as needed.

In response to the question of whether they are compiling a new register, she stated that the EC does not seek to compile a new register, but rather uses the continuous register exercise to update the register and bring qualified persons aged 18 and up on board to register and vote in 2024.

She stated that for the first time in our history, the EC is mainstreaming continuous voter registration as part of our regular activities, and as a result, our officers in the field will be fully engaged all year.

"I would like to emphasize that under the continuous registration exercise, we would be using our staff. We indicated at the start of this discussion that we want to mainstream the continuous registration as part of activities as such we would be relying on external staff but we would be using our own staff to perform this function on a day-to-day basis as part of their daily function. From the rough estimates, we would be saving the country some GH¢40 million."