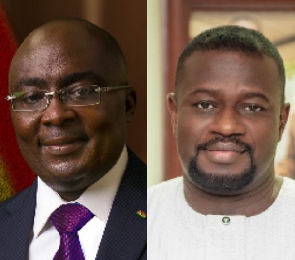 The Majority Chief Whip, Frank Annoh-Dompreh, has praised Vice President, Dr. Mahamudu Bawumia, for leading Ghana's digitalisation drive.
Annoh-Dompreh was reacting to news of Ghana being ranked number one in the 2022 Digital Competitiveness Index in Anglophone West Africa.

Ghana scored 66 percent on the index, half a percentage point more than Cape Verde, which was ranked second-best. Nigeria completed the top three with a 65 percent score.

The index was compiled by the pan-African think tank Digital Foundation Africa, and it measures and ranks which of the West African states is implementing and adopting good digitalisation policies while mapping the growth of its digital development sectors for socio-economic transformations.

The index was compiled using about 10 variables, ranging from mobile money and online transactions, to digital infrastructure and policy implementation.

"The Ranking would guide ECOWAS states in their approach in the implementation and development of the digital sector hence translating into how citizens transact and use digital in their daily lives. After the release of the index, activities will be held to engage governments and other stakeholders per country to help in the direction and future of the digital sector," parts of a statement announcing the 2022 Digital Competitiveness Index read.
Reacting to the development in a tweet shared on January 24, 2023, Annoh-Dompreh, the Member of Parliament for Nsawam Adoagyiri, described Bawumia as an economic and digitalisation genius.

His tweet was a retweet of a feat as shared by a pro-NPP activist. He captioned his post, "The Economic & Digital Messiah."

View the tweet below:


The Economic & Digital Messiah.. https://t.co/h0BW7G6uPo

— Hon. Frank Annoh-Dompreh (@FAnnohDompreh) January 24, 2023
IB/SEA