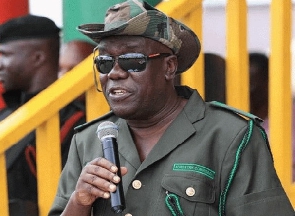 Details of the Report on the Work of the IMCIM and the Way Forward, put together by Prof. Kwabena Frimpong-Boateng, have shown that the late former Chief Executive Officer of the Forestry Commission of Ghana, Kwadwo Owusu Afriyie (Sir John) was engaged in acts that endangered the forestry sector.
The report, dated March 19, 2021, and submitted to President Nana Addo Dankwa Akufo-Addo described Sir John as the 'greatest danger to forests of Ghana.'

It was a direct statement that was said to the president by Prof Frimpong-Boateng, who, at the time, was his Minister of Environment, Science, Technology, and Innovation.

"I remember that at a meeting in the conference room of the President, I told the president in the presence of Sir John that the greatest danger to the forests of Ghana was Sir John," page 10 of the report stated.

But what exactly was Sir John, who was also the General Secretary of the ruling political party in Ghana, the New Patriotic Party (NPP), involved in that got him this tag?

What Sir John was doing as Forestry Commission boss
In the report submitted by Prof. Kwabena Frimpong-Boateng, he cited the actions and inactions of Sir John during his tenure as the boss at the Forestry Commission of Ghana.

Using this example to buttress a point in a confidential report submitted to President Nana Addo Dankwa Akufo-Addo in 2019, said that Sir John was in the habit of giving out timber concessions in forest reserves.

It also added that he was actively engaged in mining, using Chinese gangs as his main avenue.

Also, the Prof Frimpong-Boateng report indicated the Sir John-led FC refused to join an anti-galamsey taskforce's GalamStop platform – which the government created to coordinate the fight against the menace that was polluting water bodies and ravaging Ghana's forest cover.

He also explained that the former FC boss was engaged in giving out timber concessions.
"I was not surprised that the Forestry Commission did not migrate onto the GalamStop platform. Mr. Kwadwo Owusus Afriyie (aka Sir John) was actively giving out timber concessions, even in forest reserves for logging.

"Through Charles Owusu, the Director of Operations at the Forestry Commission, Sir John had Chinese gangs doing mining on his behalf. The issue about rose wood is something that is beyond the scope of this report," the report added.

See the full report titled, Report on the Work of the IMCIM and the Way Forward, put together by Prof. Kwabena Frimpong-Boateng, below:




Share your news stories and ideas with GhanaWeb




Meanwhile, watch the latest SayItLoud episode on GhanaWeb TV below:




AE/OGB