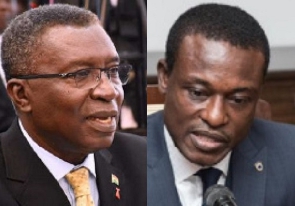 Former Minister of Science and Technology, Prof Kwabena Frimpong-Boateng, was arrested on May 16, 2023, for corruption-related offences when he led Ghana's fight against illegal small-scale mining (galamsey) as head of the Inter-Ministerial Committee on Illegal Mining (IMCIM).
He was arrested by the Office of the Special Prosecutor (OSP) when he honoured an invitation to appear before it in an ongoing investigation into corruption-related matters in the work of the IMCIM. He was released on a GH¢2 million bail.

Now, the OSP has also secured a warrant for the arrest of the former secretary to the Inter-Ministerial Committee on Illegal Mining, Charles Bissue.

A report by Kessben TV has highlighted some of the major activities of the dissolved IMCIM that are under investigation by the OSP.

Below are details of the investigation as given in the news report:
1. GH¢300 million budgetary allocation to the IMCIM

One of the major issues the OSP is investigating is the monetary allocation of over GH¢300 million to the IMCIM to fight galamsey. Prof Frimpong Boateng as the chairman of the committee has been asked by the OSP to account for the usage of the money.

2. Number of excavators seized under the operation of the IMCIM.

The number of excavators seized in the course of the fight against galamsey has become a matter of contention. It can be recalled that in 2020 there was a commotion on over 500 seized galamsey excavators going missing.
Prof Frimpong-Boateng has stated that some persons in the Nana Addo Dankwa Akufo-Addo government gave the excavators to their relations to use for illegal mining. The OSP has now asked him to account for the excavators that were seized.

3. Gold seized during galamsey operations.

The former science and technology minister has also been asked to account for gold bars seized during the fight against glamsey under his watch through joint operations with the military including Operation Galamstop and Operation Vanguard.

4. Cars and other equipment acquired for the fight against galamsey.
Prof Frimpong-Boateng, as the chairman of the dissolved IMCIM, has also been asked to account for vehicles and other equipment the committee acquired for the fight against galamsey.

Also, watch the latest episode of GhanaWeb Election Desk on GhanaWeb TV below:




Meanwhile, watch the first episode of Everyday People on GhanaWeb TV below:






IB/FNOQ