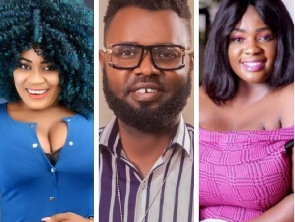 Ernest Opoku Jnr. is widely noted for his incredible singing talent but it appears that he possesses another 'great talent' which is only privy to women he has had sexual encounters with.
In recent times, women who claim to have had a taste of Ernest Opoku's lovemaking, have been caught on cameras singing his praises.

His two ex-girlfriends, who are both public figures, have confessed that the gospel singer's romantic and sex prowess is unmatched.

Ghanaian actresses, Tracey Boakye and Nayas, have both spoken highly of Ernest Opoku's sexual prowess in a couple of media interviews.

They both maintained that although the gospel singer has his shortfalls, he is close to perfect when it comes to 'bedroom matters'.

What Tracey Boakye said about Ernest Opoku's sexual abilities

Earlier in 2020, during an interview with Zionfelix, Tracey Boakye touted Ernest Opoku as a 'bedroom beast' and a romantic partner.
Tracey who was in an amorous relationship with Ernest Opoku until they broke up in 2016, described the singer as a perfect gentleman who knew how to pamper a lady and the right spots to touch.

"Ernest knows how to pamper a lady. He is a romantic guy. If I'm to choose two of my exes who are good in bed, Ernest will definitely be a part. Ernest is good in bed, yes! There is no doubt. Ernest to me was good in it," she told Zionfelix.



Nayas hails Ernest Opoku's sexual prowess

Kumawood actress, Nayas rained praises on her ex-lover, Ernest Opoku for his sexual abilities which she described as unforgettable.

In an interview with KofiTV sometime in 2018, Nayas recounted how she enjoyed every bit of their sexual escapades while they dated.
"Ernest Opoku loves my thing and I love his. He is good in bed because he can do all that a man needs to do in terms of lovemaking. When he is cumming, he speaks in tongues and I respond with an Amen," she stated.

However, despite all the praise, Ernest had a dramatic fallout with two women.

Both instances of break up were characterized by fights, insults, and banters on social media.

EB/FNOQ