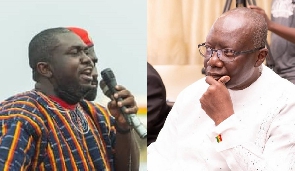 Minister of Finance Ken Ofori-Atta had reason to abandon an address he was delivering to pensioner bondholders who had been picketing at the ministry since February 6, 2023.
His action was, however, premised on the misconduct of an activist and lawyer, Oliver Barker-Vormawor; who had organized some members of the public to join the picket as a sign of solidarity.

On Wednesday, February 15, 2023, as the minister started addressing the pensioners, his third time since the picket started; Barker-Vormawor passed a comment to the effect that the public had lost trust in the minister.

According to the Ghana News Agency (GNA), his exact words were: "the people can not trust you."

The minister before quitting the session also posed a question to the activist according to reports sighted by GhanaWeb.

"Are you a pensioner?" the minister rhetorically asked Barker-Vormawor at a time he was expressing concerns over the continued picketing even when the Domestic Debt Exchange Programme (DDEP) had been concluded.

Ofori-Atta said he could not fathom why the pensioners thronged the premises of the finance ministry after his outfit assured them that they (pensioners) have been exempted from the DDEP, especially those that did not sign up.
Pensioners unhappy with activist

Convener of the Pensioner Bondholders Forum, Dr Adu Annane Antwi, lamented the turn of events reserving some stern advice for the activist and his group.

"Please sir, you are not part of us," he pointed out.

"I told them that if you want to come and support my cause, you come and do what I am doing. If you come and I am weeping, you don't come and dance….

"You sit down quietly and support but not to come and put in your own words and your own reactions to the situation. "I am not happy if you want to derail our agenda. Come and support the agenda don't doo anything that will distract from it…" he stressed.

Barker-Vormawor speaks
In an interview with Citi FM after the incident, the activist explained his action: "It is important because our conversation has been about building a protest culture.

"A culture where persons affected by public policy decisions by political officers do not sit aside but raise their voice and match that voice with the determination to show up when it matters.

"When these things are happening, it is also important that persons are inspired by this in the spirit of resilience. So with what these pensioners have shown, it is important that we the young ones also show up for them by mobilizing people to carry forward the message of resistance expressed even with their age", Barker-Vormawor emphasized.

DDEP concluded, Ofori-Atta addresses parliament

Over 80% of local bondholders have signed on to government's domestic debt exchange programme.

Government's three-day window for bondholders to complete tender processes of the Domestic Debt Exchange Programme (DDEP) expired on Friday, February 10, 2023.
The minister appeared before parliament on February 16 to explain the why and what goes into the DDEP.



You can also watch this episode of People & Places here:



Watch the latest edition of BizTech and Biz Headlines below:






SARA