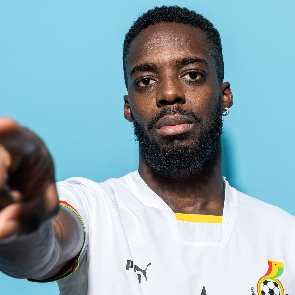 Ghanaians have attacked Black Stars striker, Inaki Williams on social media after the forward pulled out of the Black Stars squad to face Madagascar due to injury.
Some Ghanaians on Twitter have linked Inaki Williams' withdrawal to former Black Stars player Kevin-Prince Boateng, who never played any AFCON qualifier after switching nationality to play at the 2010 World Cup.

Others also hold that Inaki rarely gets injured, therefore, his claim of playing through a knee injury in recent weeks is 'weird'.

Inaki Williams announced his decision via a social media post on Monday, June 5, 2023, citing that he will not be available for the qualifier due to a knee injury.

He added that he had been playing with the condition in recent weeks and that he needed to treat it in order to be ready for next season.

The Spanish-born Ghanaian emphasized that he is committed to the national team and will return to action for the national colors when the manager calls on him.
The Athletic Club forward has been replaced by Hamburger FC forward, Ransford-Yeboah Konigsdorffer.

The Black Stars will face the Bareas on June 18. A win for Ghana will secure their place at the 2023 AFCON to be hosted by Ivory Coast.

Check out Inaki Williams' statement below and some Ghanaian's reactions


June 5, 2023
World Cup is over, eno be so? Not surprising at all. Until we learn lessons from the likes of KP Boateng et all, these foreign guys will keep taking us for idiots

— Ekow Zerubbabel (@ekowzeru) June 5, 2023
Don't come and give us KP BOATENG vibes oo https://t.co/suJPh3BPf0

— Akuapem Brother (@Akuapem_Brother) June 5, 2023
???? Kevin Prince Boateng Strategy sooor! ???? some of us are familiar them kind thing Iñaki Williams ye study. https://t.co/p9VWsNbrrN

— UMAR MOROSKI???????? (@UmarMoroski) June 5, 2023
Ghanaians after hearing this ???? pic.twitter.com/FwppzKUGkX

— Boakye pretty ???? (@Joelneverlies) June 5, 2023
Inaki Williams say what???

— Adjor???? (@thekingadjor) June 5, 2023
This is weird cos he hardly even gets injured. Fishy.

— Ny (@graceyafful) June 5, 2023
We all know you joined because you want World Cup appearance????????????????

— Montesquieu (@agb_lopo) June 5, 2023
Inaki Williams play world cup for Qatar finish e reach sakasaka park your man say now he kai say he hurt ????????????????

— Essel (@Esselguy) June 5, 2023
Don't worry the knew this from the start of the show. We're familiar with your game ????????

— ODOGWU ???????? (@quaksxx) June 5, 2023
Inaki Williams, I shake my head in disbelief. Neymar on my mind. You played with injuries for your team but can't play for nation?

— Counselor Joseph Nkansah (@kojokansah1) June 5, 2023
Why do I have a feeling Inaki Williams is lying ??????????‍♂️

— ACHIMOTA SARKODIE????????™️ (@AchimotaSark) June 6, 2023
As we dey go Qatar no de3 na blud no get knee injury o....now that e reach dogo moro pitches no de3 blud say he get knee injury herrr???? pic.twitter.com/21TCUootY5

— Ama Judith (@ama_serwaaa) June 5, 2023
Inaki Williams pulling out from Black stars AFCON qualification game isn't news. It is something most of these foreign based players do.

— KOB!NA OCRAN ???????? (@Kobinaocrangh) June 5, 2023
Eerrr Inaki Williams he be now wey the thing pain me a player who can play a full season without injury is now using injury as an excuse!

— Advans (@MichaelAdvans) June 6, 2023
EE/KPE