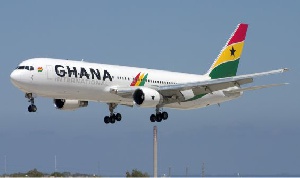 Various strands of conversation have gone on about floating once more a state airline to replace the long defunct Ghana Airways.
For a national airline which flew our national colours to die as it did from poor and uncompetitive management, is a suggestion about how we have failed in our post-independence Ghana to manage our own affairs especially in the aviation realm.

This is indeed a far cry from what the late Kwame Nkrumah told the world when he said the black man is capable of managing his own affairs. We have failed to keep our national airline in the sky as have Nigeria our colonial stable sisters.

Today so many years after the failed state airline was grounded, we are back to the drawing board considering various options available to us.

With a whole ministry established to manage the aviation industry in the country, it behooves us to be in the air without undue delay. It is proper that before taking to the air we get it right. Another failed attempt would not be in the interest of our image.

It was with excitement therefore that the aviation ministry has set out the ground rules for such an airline. It makes sense that one of the rules on the drawing board is that government would only take a minority share in what is going to be a state and private partnership arrangement. Superb. This way, the rather awful tendency to fly family members and their luggage gratis would not be countenanced.
Shareholders would demand a value for money operation. So many years have elapsed since those horrible days. On hindsight, we wonder how those responsible for killing the national airline expected it to survive their greedy attitude.

Waterproof clauses should be included in the contractual agreement for the setting up of the airline so that what befell us as a nation is not repeated by greedy compatriots who are still among us.

What is it about Ethiopian Airways, Kenya Airways and even Egyptair that they continue to be in the air serving their individual countries and making profits?

There is, of course, something about their operations which is unlike ours. This we must find out so we can emulate their efficiency to our benefit.

Our determination to be in the air once more would come to naught if we do not change our attitude to work and handling of public properties and businesses. When the deal to fly a new airline is finally implemented with the state owning a minority share, nobody should be spared who proves to be a spanner in the works. Such persons should be axed without delay to serve as a deterrent to others who might be living in the bad old days of the defunct Ghana Airways.
Our much-touted desire to be the aviation hub of West Africa should start now, from the Aviation Ministry and the embryonic airline.

Former President Agyekum Kufuor did not create an Aviation Ministry for cosmetic reasons but to serve Ghana profitably. President Akufo-Addo is continuing the spirit because he believes in the economic benefits of an efficiently managed airline.

We long to see our freshly minted aircraft in the air displaying our national colours among the international comity of airlines.