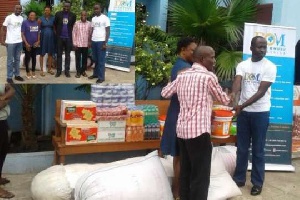 The Reverend John Azumah, an HIV Ambassador with the Ghana Aids Commission (GAC), has called for a holistic system of care for the over 38,000 Ghanaian children who are currently living with HIV in the country.
He said many of these children who are living with their grandmothers, caregivers and other relatives as well as in a few orphanages, lack adequate care in the areas of proper monitoring of the intake of their antiretroviral drugs, regular medical check-ups, proper food intake and the essential multivitamins needed as supplements to the Antiretroviral drug.

Rev Azumah, who is also the founder of the Motherly Love Orphanage located at Kwabenya in Accra, made the call in an interview with the Ghana News Agency on Friday when he received on behalf of the Orphanage, a donation of food items and some toiletries donated by the David Owusu Ministries (DOM), an International and Inter-Denominational Organization, headquartered in London, United Kingdom.

The food items included bags of rice, gari, beans, maize, sugar, cartons of biscuits, some soft drinks, detergents and toiletries, and it was presented by Prophet David Owusu, President of DOM, together with Ms Marie-Paulie Owusu, Administrator of the DOM Ghana.

Rev Azumah thanked Prophet Owusu and his team, for showing the act of love for the 32 orphans in his care, 70 per cent of whom are living with HIV while the other 30 per cent are without HIV infection but are affected by the passing away of their parents through AIDS.

He said because many of the HIV infected and affected children were living with their grandmothers and also face stigmatisation, their care was not properly being monitored.
"Many of them don't take the antiretroviral drug consistently and develop drug resistance, some of them are not taken for regular check-ups' and the health system also lacks adequate mechanisms for proper follow-ups.

"This is leading to the deterioration in the health of some of the children and even death of a number of them, who most of the time do not understand why they should take medicine every day of their lives", Rev Azumah said.

According to the HIV Ambassador, the issue of acceptance of the HIV affected children in homes was still a problem, and therefore the need to intensify education that would "kill" the stigma surrounding living with such children.

Rev Azumah said because of the dwindling donor support towards HIV activities in Ghana, government had reduced the bit on education but rather prioritising the supply of the antiretroviral medication which was very much needed to suppress the virus in people.

While commending the government for leading in the training of specialised health professionals who would be ready to care for Persons living with HIV and AIDS across the country, Rev Azumah said continuous education on ending stig