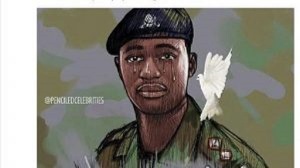 Captain Dennis Mahama Adam (Retired) and father of the late Major Maxwell Adam Mahama, has expressed gratitude to various bodies and individuals who extended support to the bereaved family both in kind and cash during the funeral of his son.
According to him, right from the President Nana Addo Dankwa Akufo-Addo, his Vice Dr Mahamudu Bawumia, the Military High Command , Chiefs and the final funeral rites which was held in Tumu in the Sissala East District of the Upper West Region, has gone a long way to alleviate his loss.

In an interview with Tumu-base Radford Fm, Retired Captain Mahama said they now feel better than before and therefore take solace in the lord.

"I want my people in the Sissala community to help thank everyone who played a role right from Accra through Bole to Tumu especially the Ghana Armed Forces.

It was a wonderful support that we had. I will like to thank the State, the President and his Vice, the Defense Minister, Religious Leaders and all who allied me. We are grateful.

He said he was indebted to the chiefs and people of Bole who came out in their numbers when the funeral was held there commending them for their show of love.

"Infact all the entourage that followed us from Accra to Tumu here all said that the Tumu reception and the funeral was the greatest and even supersedes the Accra one and I support, it was such a wonderful outing.
May God bless everyone. Never again should any human being on this earth suffer what my son suffered "he said.

He was full of praise to the Tumu Kuoro, Gwollu Kuoro and all the Chiefs including the planning committee for their support during the event