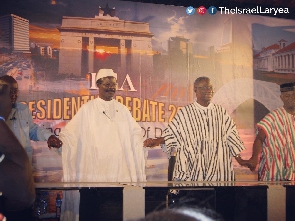 At least between the period of early 2000, when Jerry John Rawlings was preparing to hand over political power to a new government, and 2016, it was a popular era for presidential debates ahead of general elections in the country.
The interest in these debates may have waned in recent years because of such reasons as the disinterest of some major participants from certain leading political parties, but it never hurts to take a look back at some of the best times of these highly-publicised debates.

Sharing photos of his time as a moderator of the 2008 presidential debate in Ghana, seasoned journalist Israel Laryea reminded all of an aspect of the debate that nearly turned chaotic.

The presidential debate had ended, and while there were many calls for the candidates to commit to promoting peace and embracing tolerance, Israel recalls how his simple call for the exhibition of the same nearly turned into a tense situation.

In his photo caption, as shared via Twitter, Israel Laryea explained that after the debate, he made a call for all the candidates: Nana Addo Dankwa Akufo-Addo, Dr. Paa Kwesi Nduom, Prof. John Evans Atta Mills, and Dr. Edward Mahama, to hold hands.

This was simply a sign of their commitment to peace and the promotion of tolerance, but he said something nearly marred that call.
The journalist wrote, "I recall how a political party rep protested my call to the candidates to hold hands and pledge peace because there was so much tension. They did, though."

In 2008, an eleven (11) member Presidential Debate Committee (PDC), with a mandate to organise the 2008 Presidential Debate, was set up.

The committee was headed by His Eminence Peter Cardinal Appiah Turkson, Catholic Archbishop of Cape Coast with Odeneho Gyapong Ababio II, President of the National House of Chiefs, Shiekh O. N. Shaributu, National Chief Imam and Maulvi Waham Adams as members,

The other members are Mrs Doris Acheampong, Greater Accra Regional Director of the National Commission of Civic Education; Dr Rose Mensa-Kutin, Convenor of Network for Women's Rights in Ghana; Mrs Jean Mensa, IEA Administrator; Mr Kofi Owusu, Director of Programmes, Joy FM; and Mr Ransford Tetteh, President of the Ghana Journalists Association. The rest are, Mr William Ampem Darko, Director General of Ghana Broadcasting Corporation and Dr Yaw Baah, Director of Research Trades Union Congress.

See the photos shared by Israel Laryea, from that debate, below: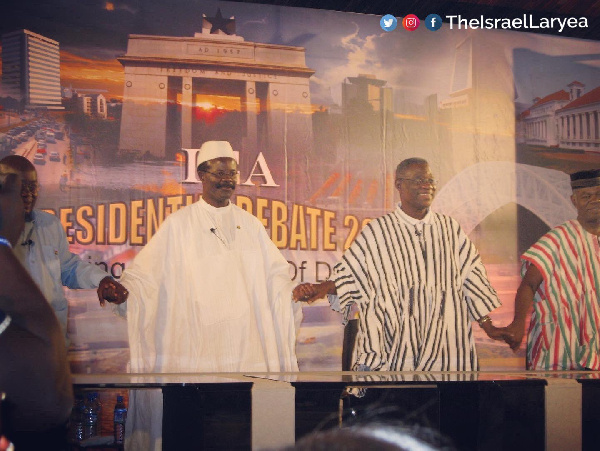 Watch the latest episode of #SayItLoud below:




Watch the latest episode of The Lowdown below:



AE/OGB