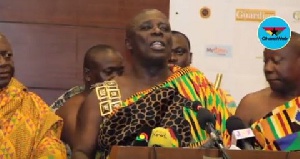 A traditional leader in the Eastern Region has suggested that the title of Okyenhene, as ascribed to the current leader of the Akyem Abuakwa traditional area, is non-existent.
In what appears to be a press conference from recent chieftaincy tensions in the region, the unnamed leader is heard explaining that there are three paramount chiefs in the Eastern Region of which the Akyem Abuakwa manhene is one.

"Akyem is not like Asante who have Asantehene. Aa Akyems, we don't have Okyenhene. Listen to me very carefully, there is no one known as Okyenhene in Akyem land.

"What we know is Kotoku manhene, Abuakwa manhene, who is based in Kyebi and we have Bosome manhene, based in Akyem Swedru, who shares a boundary with Oda. We don't know any Okyenhene in Ghana.

"So, if someone takes on that title, that is him giving himself a title," he stated to widespread agreement by some of his followers.

Chieftaincy issues in the Eastern Region have recently descended into deadly violence especially with the allegedly illegal and forced enstoolment of a chief for the people of Adoagyiri Nsawam.

In a video shared on social media, the Okyenhene had cause to threaten anyone who dares to challenge the authority of the person he had enstooled.
Some other paramount chiefs in the wider Eastern Region include the Omanhene of New Juaben Traditional Area, Nana Kwaku Boateng II; the Okuapemhene, Oseadeeyo Kwasi Akuffo III and Akwamuhene Odeneho Kwafo Akoto III.

Who is the current 'Okyenhene?'

Osagyefuo Nana Amoatia Ofori Panin was enthroned on Oct. 4, 1999 on the passing of his predecessor and brother, Nana Kuntunkununku II.

He is the 34th occupant of the Ofori Panin Stool. He attended the Akwatia Cast School and has his secondary education at Abuakwa State College and sixth form at College of Further Studies, Oxford.

He also studied political science and public administration at Hartford University in Connecticut.

Watch his submission below:
SARA
Click here to start the nomination process for the 2023 GhanaWeb Excellence Awards
Ghana's leading digital news platform, GhanaWeb, in conjunction with the Korle-Bu Teaching Hospital, is embarking on an aggressive campaign which is geared towards ensuring that parliament passes comprehensive legislation to guide organ harvesting, organ donation, and organ transplantation in the country.
Vladimir Antwi-Danso speaks on Ghana's security in the face of recurring coups on The Lowdown


You can also watch the latest episode of Everyday People on GhanaWeb TV below:





Watch the launch of the 2023 GhanaWeb Excellence Awards on GhanaWeb TV below:




Share your news stories and ideas with GhanaWeb




To advertise with GhanaWeb