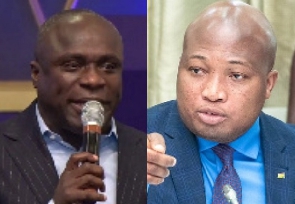 Member of Parliament for North Tongu, Samuel Okudzeto Ablakwa has alleged that embattled secretary of the Board of Trustees of the National Cathedral uses different signatures on documents available to him.
This is in addition to earlier allegations that the Rev. Victor Kusi Boateng uses two distinct names (the other being Kwabena Adu Gyamfi) both with different dates of birth on official documents.

Ablakwa has also provided evidence that shows that Kusi Boateng has used two different names in respect of his mother in filling forms and also has two different Tax Identification Numbers (TIN).

Commenting on the issue of signatures during an interview on Accra-based Radio Gold (Januray 18), Ablakwa dismissed the reverend's claim that his 'revelations' were part of a malicious agenda.

What Ablakwa said:

"Who has the audacity to talk about malicious agenda, and he even forgets that that is not the signature he uses when he is writing under Victor Kusi Boateng, he forgets.

"There are so many things I haven't put out yet. I have six signatures for him. I am waiting for him at CHRAJ (Commission on Human Rights and Administrative Justice)," he added before showing evidence to the host of two different signatures in respect of Kusi Boateng and Adu Gyamfi.
"He even forgot… I have six signatures for him, he was confused. He forgets, he forgets all of that. He should deal with me and stop these empty threats about future court suits. He has forgotten the signatures he uses when he is Victor Kusi Boateng," Ablakwa stressed.

Ablakwa goes after Rev. Kusi Boateng and JNS Talent Center

Ablakwa dragged Reverend Kusi Boateng to CHRAJ early last week after publishing, on social media, a series of allegations against the clergyman in respect of payments by the National Cathedral to JNS Talent Center, a company closely associated with Kusi Boateng.

Among other allegations, the MP alleged irregular payments of some GHC2.6 million from the National Cathedral accounts to JNS, where Rev. Kusi Boateng is listed as a director with his other 'official name 'Kwabena Adu Gyamfi.'

The Cathedral has formally rejected the allegations of irregular payment explaining that the accused only extended a loan to the board and was later paid a full refund without interest.

SARA
There are six different signatures between Kusi Boateng and Adu Gyamfi – Ablakwa alleges

Member of Parliament for North Tongu, Samuel Okudzeto Ablakwa, has alleged that the embattled secretary of the Board of Trustees of the National Cathedral uses different signatures on documents available to him.

This is in addition to earlier allegations that Rev. Victor Kusi Boateng uses two distinct names (the other being Kwabena Adu Gyamfi), both with different dates of birth on official documents.

Ablakwa has also provided evidence that shows that Kusi Boateng has used two different names, in respect of his mother, in filling out forms and also has two different Tax Identification Numbers (TIN).

Commenting on the issue of signatures during an interview on Accra-based Radio Gold (Januray 18), Ablakwa dismissed the reverend's claim that his 'revelations' were part of a malicious agenda.

What Ablakwa said:
"Who has the audacity to talk about malicious agenda, and he even forgets that that is not the signature he uses when he is writing under Victor Kusi Boateng, he forgets.

"There are so many things I haven't put out yet. I have six signatures for him. I am waiting for him at CHRAJ (Commission on Human Rights and Administrative Justice)," he added before showing evidence to the host of two different signatures in respect of Kusi Boateng and Adu Gyamfi.

"He even forgot… I have six signatures for him; he was confused. He forgets, he forgets all of that. He should deal with me and stop these empty threats about future court suits. He has forgotten the signatures he uses when he is Victor Kusi Boateng," Ablakwa stressed.

Ablakwa goes after Rev. Kusi Boateng and JNS Talent Center

Ablakwa dragged Reverend Kusi Boateng to CHRAJ early last week after publishing on social media, a series of allegations against the clergyman in respect of payments by the National Cathedral to JNS Talent Center, a company closely associated with Kusi Boateng.

Among other allegations, the MP alleged irregular payments of some GHC2.6 million from the National Cathedral accounts to JNS, where Rev. Kusi Boateng is listed as a director with his other 'official name, 'Kwabena Adu Gyamfi.'
The Cathedral has formally rejected the allegations of irregular payment, explaining that the accused only extended a loan to the board and was later paid a full refund without interest.

SARA/SEA