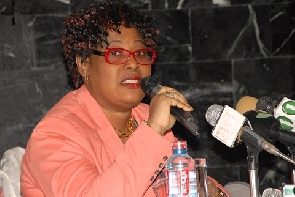 The General Secretary of the Convention Peoples Party (CPP), Nana Yaa Jantuah, has slammed the government for not involving her party in the refurbishment of the Kwame Nkrumah Mausoleum.
According to her, the government has refused to honour the late Dr Kwame Nkrumah, but it has hurriedly renovated his tomb without even consulting his political party.

Speaking in an interview on UTV on Thursday, July 6, 2023, Yaa Jantua, indicated that there has been no state funeral for Nkrumah, who was Ghana's first president, since his demise.

"Where was CPP at the inauguration of the mausoleum? How did they involve us in this… it has been over 50 years since Nkrumah died but there has been no state funeral for him and nobody is talking about this. If someone dies and there is no funeral for him, his soul never rests.

"When his body arrived in Ghana, they took him to Ekrufu and a small ceremony was done for him that is all. There was no state funeral for the first president of Ghana, who got us independence," he said in Twi.

The general secretary said that if the government wants to honour Nkrumah, they should bring back the July 1 holiday which is to mark the day Ghana become a republic because of the efforts of Dr Kwame Nkrumah.
Watch the interview below:



BAI/OGB

Watch the latest episode of Everyday People on GhanaWeb TV below: