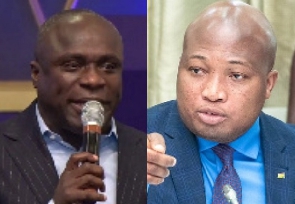 The Member of Parliament (MP) for North Tongu has disclosed some purported details on the Ghana Card of embattled secretary to the Board of Trustees of the National Cathedral of Ghana, Rev. Victor Kusi Boateng.
The secretary is accused of operating under the pseudonym Kwabena Adu Gyamfi for criminal purposes, in a series of documents published in recent weeks by the lawmaker.

Samuel Okudzeto Ablakwa revealed last week that he had obtained the National Identification Card (Ghana Card), of Kusi Boateng in addition to other details such as his two different passports and driver's license, he has previously published.

During an interview on Metro TV's Good Morning Ghana, on January 20, Ablakwa told host Randy Abbey: "I have secured that (the Ghana Card) too. I'm keeping that close to my chest. You know I told you about the structure.

"I have the National ID (Ghana Card) and I have other driving licenses too, but I am keeping those close to my chest. You see this matter we are not even midway yet. It is a relay race, it is going to be very interesting," he said.

In providing an update on the issue on the January 27 edition of the programme, he revealed that the card he had seen was not in the known name Victor Kusi Boateng, but he did not disclose whether it had the name Kwabena Adu Gyamfi.
"You remember that I told you last week that I have secured his Ghana Card? Let me confirm to you today that the Ghana Card is also not in the name Reverend Victor Kusi Boateng.

"When you go through Ghana's database, there is no Reverend Victor Kusi Boateng, so you wonder what is going on," he added before explaining that the man of God officially operates with Kusi Boateng as captured on his letterhead but also actively continues to use Kwabena Adu Gyamfi.

Ablakwa has stood by an accusation that the pastor's company was paid an unmerited sum from the National Cathedral kitty, even though the secretariat has explained that the $2.6 million paid to Rev Kusi Boateng was a loan repayment.

According to Ablakwa, the Board of Trustees never discussed acquiring a loan facility, and at the time the loan was acquired, the Cathedral had about $6 million in its bank accounts.

SARA