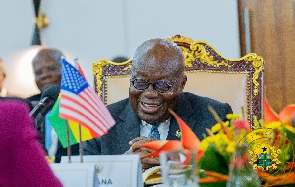 Lesbian, Gay, Bisexual, Transgender, and Queer (LGBTQ) is a very sensitive topic to Ghanaians as some of them have taken an entrenched position against the practice.
Speaking at a press briefing as part of the Vice President of the United States, Kamala Haris' visit to Ghana, President Akufo-Addo debunked claims made by a New York Journalist that Ghana has passed legislation against LGBTQ.

According to the President, the Promotion of Proper Human Sexual Rights and Ghanaian Family Values Bill 2021 is in Parliament undergoing a Constitutional Review.

"The statement that there's legislation in Ghana to that effect is not accurate. ..the Attorney General has found it necessary to speak to the Committee about it regarding the constitutionality of several of its provisions", he said.

Meanwhile, H.E Kamala Haris was precise with the stance of the US on LGBTQ right.
"Let me be clear about where we stand. The American press who are here, you know that a great deal of work in my career has been to address human rights issues and equality issues across borders as relates to the LGBTQ Community.

"And I feel very strongly about the importance of supporting freedom and fighting for equality among all people. I will also say that this is an issue that we consider a human rights issue and that will not change", she said.

President Akufo-Addo assured that Ghana's Parliament will put into consideration the sensitivity of human rights issues and the feeling of the Ghanaian population and come up with an appropriate law.