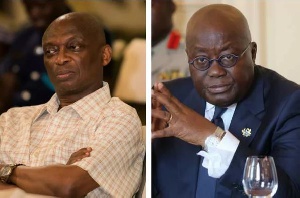 Veteran Ghanaian journalist, Abdul Malik Kweku Baako, has castigated the attempts by successive governments to celebrate the late Dr. Kwame Nkrumah's birthday as a Memorial Day in Ghana.
According to him, despite the fact that he is a firm believer in Nkrumah's philosophies, he believes it is unnecessary to allot a day to celebrate the man.

He recalled that he registered his displeasure with the decision of the late Atta-Mills to mark the Dr, Nkrumah's birthday as a national holiday.

He explained that this was as a result of the fact that Ghanaians were not properly educated on the reason behind the move.
He however noted that the decision of president Akufo-Addo to rebrand Nkrumah's birthday from 'Founder's Day' to 'Memorial Day' vindicates Ghana's first president in several ways.

To him, it is nothing short of a paradox. Information available to YEN indicates that the president intends to propose a legislation to designate 4th August as Founders' Day, and 21st September as a Memorial Day, both of which will be observed as public holidays.