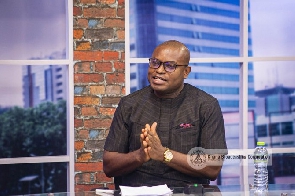 Richard Ahiagbah, the Director of Communications for the New Patriotic Party (NPP), has challenged the opposition National Democratic Congress (NDC) to provide evidence supporting their claim that the NPP is involved in the leaked tape alleging a plot to remove the Inspector General of Police (IGP).
Ahiagbah stated that there is no proof that Dr. George Akuffo Dampare, the IGP, has the power to unilaterally influence election outcomes in favor of any political party. He urged the NDC to share their knowledge if they know how to use an IGP to manipulate election results.

Addressing the issue on JoyNews' Newsfile, Ahiagbah emphasized that throughout the Fourth Republic, there has been no evidence to suggest that an IGP can single-handedly determine electoral outcomes for any political party.

While expressing support for the seven-member Parliamentary Committee investigating the leaked tape, Ahiagbah expressed concerns about the NDC's premature conclusion on the matter before the committee's report was released. He cautioned against politicizing the tape and urged the NDC to tread cautiously.

Ahigbah referred to Martin Amidu's analysis, which suggested that it is not possible to use an IGP to rig an election, to buttress his point.

He maintained that even if such an attempt were made, there would likely be conscientious individuals within the police service who would expose the wrongdoing.
Regarding the power to replace government officials, Ahiagbah noted that the President has the authority to make appointments based on performance. He clarified that it is within the President's purview to replace the IGP if necessary and emphasized that there is no indication of any such action being contemplated.

Ahiagbah disagreed with Felix Kwakye Ofosu, former Deputy Information Minister for the NDC, who criticized interior minister Ambrose Dery for his remarks on the leaked tape. Ahiagbah defended Dery, stating that as a sector minister responsible for the IGP, Dery was representing the President's position. He suggested that the NDC should not attempt to speak on behalf of the ministry.

GA/SARA

Watch the latest episode of The Lowdown:




You can also watch this episode of People & Places here:





Share your news stories and ideas with GhanaWeb


To advertise with GhanaWeb