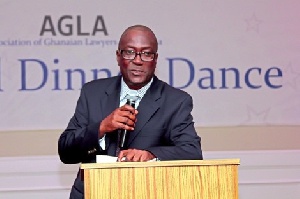 The Executive Director of the Ghana Centre for Democratic Development (CDD), Professor Henry Kwasi Prempeh, has stated that there is the "impression" and "perception" that the Auditor-General, Mr Daniel Domelevo, is being "persecuted" for daring to fight corruption.
Mr Domelevo has been accused of procurement breaches and was recently invited by the Economic and Organised Crime Office (EOCO) for questioning.

In Prof Prempeh's view, even though "nobody is infallible", "the kind of [situation where] every move he [A-G] makes, then somebody is trying to checkmate him definitely, does give the impression that he is being persecuted, which is not right," he condemned during an interview with Benjamin Akakpo on Class 91.3FM's Executive Breakfast Show on Tuesday, 19 November 2019.

Asked if Mr Domelevo is being targeted due to his strong stance against corruption, Prof Prempeh answered: "That is the perception that people get and we in civil society are worried about that".

"He [Mr Domelevo] has exhibited, in many of the things that he has done, that he means business for the Republic; he is trying to get things moving. He has given the Auditor-General's office a different kind of profile than it had in the past. The surcharges are a good thing," he noted.

A private citizen lodged a complaint with EOCO against the A-G, the Deputy A-G (Finance and Administration) Mrs Roberta Assiamah-Appiah and the Audit Service Board, accusing them of circumventing the procurement laws in procuring some vehicles for the Audit Service.
The petitioner holds the view that the Audit Service flouted the Procurement Law, Act 663, in the purchase of vehicles for the office of the A-G at a cost of approximately GHS6.2 million.

The petitioner entreated EOCO to investigate the matter and determine whether due processes were followed and recommend appropriate sanctions in accordance with the Public Procurement Act, Act 663 if any procurement guideline was flouted.

However, in a letter dated 18 November 2019, Mr Domelovo, rejected the EOCO probe, stating that the investigative body does not have the mandate to investigate procurement breaches.

Reacting to the letter in an interview with the state-owned Daily Graphic, the Executive Director of EOCO, COP Frank Adu-Poku (Retd) said Mr Domelevo cannot place his own interpretation on the authority of EOCO and its operations, explaining: "That interpretation, if any, should be done by the courts".