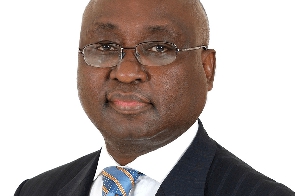 Donald Kaberuka, a former president of the African Development Bank (AfDB) diagnosed Ghana's economic malaise at an event held by the Rwandan ruling party late last week.
Kaberuka, whiles sharing views about how African governments take actions that eventually wreck their economies decried economic mismanagement stressing that economic independence is a product of economic discipline.

Steering clear of mentioning the name of the specific country, he outlined how a West African country had returned to the International Monetary Fund (IMF) and was being forced to implement measures from the multilateral vendor.

He stressed that the said government was struggling because of failure to save for a rainy day. "A country in West Africa, please no names, which was back to the IMF to begin general economic reforms is back to the IMF today, please no names.

"Why? A combination of domestic indiscipline, macroeconomic indiscipline and these external shocks. As a result, they have lost what I call political, fiscal and policy space. The decisions they are now implementing are not their decisions.

"Why? Because during that days when things were very good, they did the wrong things, they ticked the wrong boxes. Massive borrowing for example, massive spending, huge deficit without building the resilience for the day things will be very difficult," he stressed.
Kaberuka emphasized that aside from Ghaan, 14 countries in that zone were suffering similar plights, "economic independence begins by economic discipline," he added.


Development in Africa: Rwanda's President questions failure of African leaders to fix their countries themselves. #JoyNews pic.twitter.com/pvFK0uLL40

— JoyNews (@JoyNewsOnTV) April 3, 2023
Watch the latest episode of The Lowdown below:
SARA