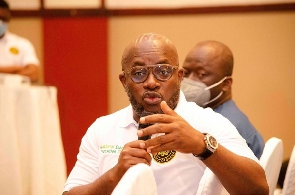 Deputy Energy Minister, Andrew Egyapa Mercer, has accused the Minority caucus in parliament of plotting for the failure of government's gold-for-oil policy.
According to him, some utterances made by the opposition NDC MPs showed that their intentions were for Ghanaians not to benefit from the low pricing of petroleum products at various pumps.

Speaking on the floor of parliament on March 16, 2023, he noted that the gold-for-oil programme was to stem the high foreign exchange rate, and for Ghanaians to patronize petroleum products at a relatively cheaper price.

According to Andrew Egyapa Mercer, "They [minority] have consistently sought for this policy to fail because if you listen to the comment of our friends from the other side on social media and mainstream media, their intent is for Ghanaians not to benefit from low pricing of petroleum products."

"That gold-for-oil policy is rather what has come in to help address the rampant increase in foreign exchange so that the Ghanaian community can have the benefit of low prices at the pump," the Deputy Minister of Energy said in Parliament.

His comment comes after Deputy Minority Leader in Parliament, Emmanuel Armah Kofi Buah, dismissed claims by Vice President Dr Mahamudu Bawumia that fuel prices were witnessing a decline because of government's gold-for-oil policy.

Mr Armah Kofi Buah stated categorically that the drop in the price of fuel had nothing to do with the policy.
The gold-for-oil programme is to allow government pay for imported oil products with gold in a direct barter with gold purchased by the central bank.

The move, announced by Vice President, Dr Mahamudu Bawumia will serve as an intervention to help stabilise prices of fuel products, as well as, reduce pressure on Ghana's foreign exchange.

The first oil consignment arrived in January 2023.

Meanwhile, the National Petroleum Authority, in the statement disclosed that Ghana paid US$40 million for about 40,000 metric tonnes of diesel in the first consignment of its gold-for-oil programme.

ESA/WA