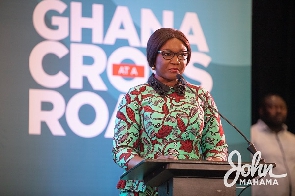 Joyce Bawah Mogtari, an aide to former president John Dramani Mahama has accused the Nana Addo Dankwa Akufo-Addo government of weaponizing the COVID-19 pandemic.
She alleges that government used funds realised for the fight against the pandemic to support campaigns.

She added that the Electronic Transactions Levy (E-Levy) was another revenue stream that was misused eventually used to justify the decision to seek an International Monetary Fund (IMF) programme.

Flowing from the two economic reasons she presented, Bawah Mogtari classified the government as a threat to Ghana's democracy.

"The NPP weaponised covid-19, profiting from the pandemic; using Covid funds to support political campaigns,weaponized E-Levy and used it as a bait for going to the IMF; now they are playing God and demonising their opponents. This NPP admin. is a threat to our democracy," her tweet of May 30, 2023 read.
Last month, the IMF approved a $3 billion economic recovery facility for Ghana, which has faced severe economic pressure since late 2019.

The government largely attributes the economic challenges to the COVID-19 pandemic and the Russia-Ukraine War, but the opposition believes the situation is due to mismanagement of the economy by the government.

An initial tranche of US$600 million has since been released by the global lender.


The NPP weaponised covid-19, profiting from the pandemic; using Covid funds to support political campaigns,weaponized E-Levy and used it as a bait for going to the IMF; now they are playing God and demonising their opponents. This NPP admin. is a threat to our democracy.

— Joyce Bawah Mogtari (@joyce_bawah) May 31, 2023


Meanwhile, watch a snippet of GhanaWeb TV's latest program that focuses mainly on Everyday People below:




You can also watch the latest episode of People & Places on GhanaWeb TV:





Meanwhile, watch the latest episode of SayItLoud on GhanaWeb TV below:


SARA